What Our Patients Like Most About Our Pharmacy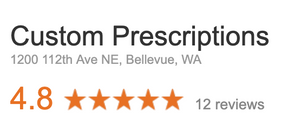 "My dog's, medicine got ready really quickly even though doctor said it will take time, place was clean and well-maintained, good customer service."

"My Yorkie has an ulcer in her eye and the doggie ophthalmologist prescribed eye drops which needed to be compounded. Custom Prescriptions got it filled on the same day and mailed it to me for no charge. The owner really takes the extra mile to take care of his customers. I highly recommend this pharmacy,"

"After initial review, manager called me back to try and resolve what had happened so it could be fixed. Also ordered his pharmacy to place a rush on my order so I could get it filled right away. Excellent resolve of situation"

"I've worked with several pharmacies and these guys are by far the best. Great customer service, excellent on the phone, reliable, good product. Thanks, Custom!"

"Best pharmacy ever. Intelligent pharmacists, amazing customer service. Solid prices."

"Super friendly and they always try to fill urgent requests asap."

"This is the "Go To" compounding pharmacy we use at our veterinary clinic. The customer service is bar none above the rest. "

"You have helped me help my elderly cat stay as comfortable as possible with her tuna flavored compounded medication! Thanks for your support during these months of palliative care!"

"They are very good at what they are doing. I am impressed."